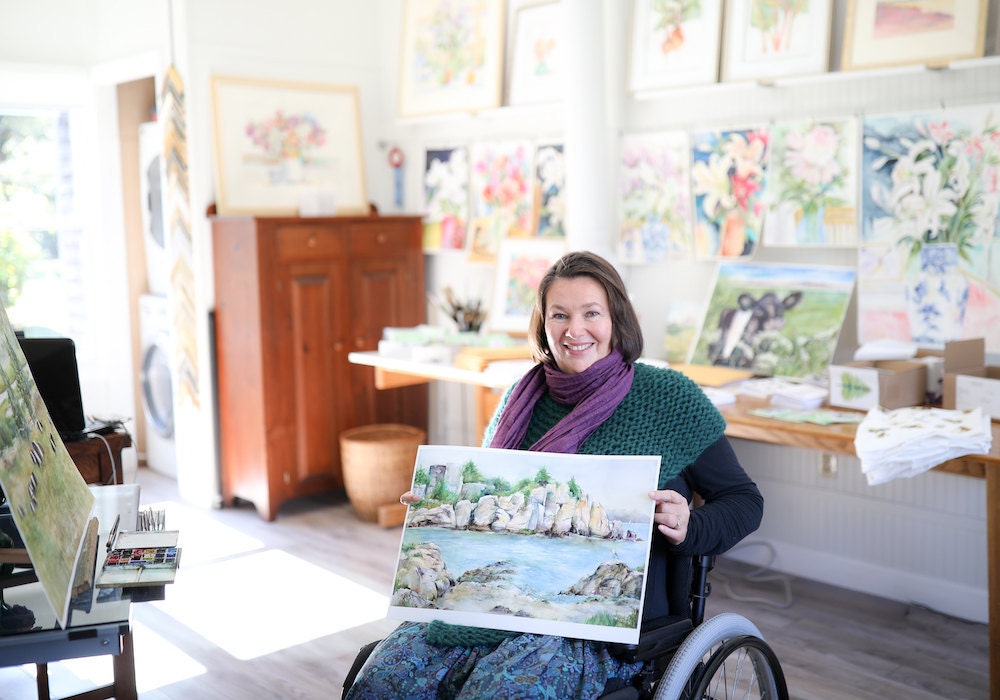 Craggy New England cliffs and a flourishing home flower garden inform both the content and context of artist Shirley Bell's work. Selling on Etsy since 2008, her shop features an array of original watercolours, giclee prints, boxed cards, and giftable items. Each design is inspired by scenes of daily life in her hometown of Jamestown, Rhode Island, a close-knit island community in Narragansett Bay.
While Shirley's always been creative, it wasn't until a few years after college that she began experimenting with watercolour. "I fell in love with the medium right away", she says. "And I still learn new things with each painting I do." Following a spinal cord injury at the age of 16, Shirley learned to navigate new challenges and explore fresh perspectives while using a wheelchair. Her hands were also affected by the injury, making the fluid nature of watercolour even more appealing. "There's an ease once water and paint hit the paper", Shirley explains. "There's no physical struggle to the painting process."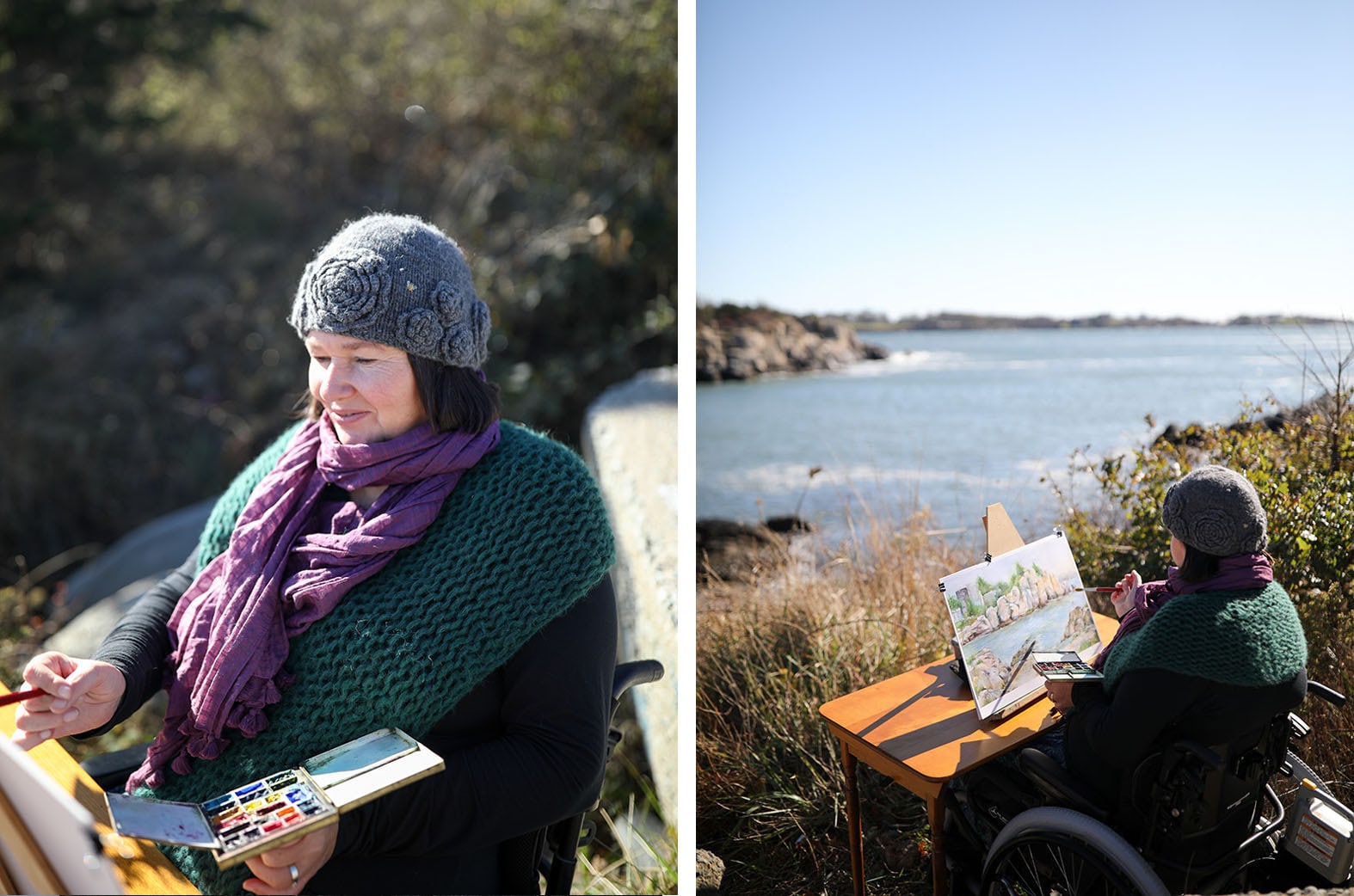 She runs the business with her husband, Rolf Knudsen, who also works as a photographer. Rolf helps with packing orders, managing wholesale invoices, and miscellaneous daily tasks. "He's the sweetest man on the planet, and I couldn't do this business without him", says Shirley. "We make a good team." Together, the pair has fulfilled over 6,000 orders and received more than 1,300 five-star reviews on Etsy.
Prompt delivery is a top priority for the business, along with careful packaging to protect delicate items from bends and breaks."I always want my customers to be 100% happy with their purchase", says Shirley. Timely, considerate communication is also a cornerstone of their customer service philosophy. "We always get right back to people's questions", Shirley explains. "And always correct mistakes if they've been made."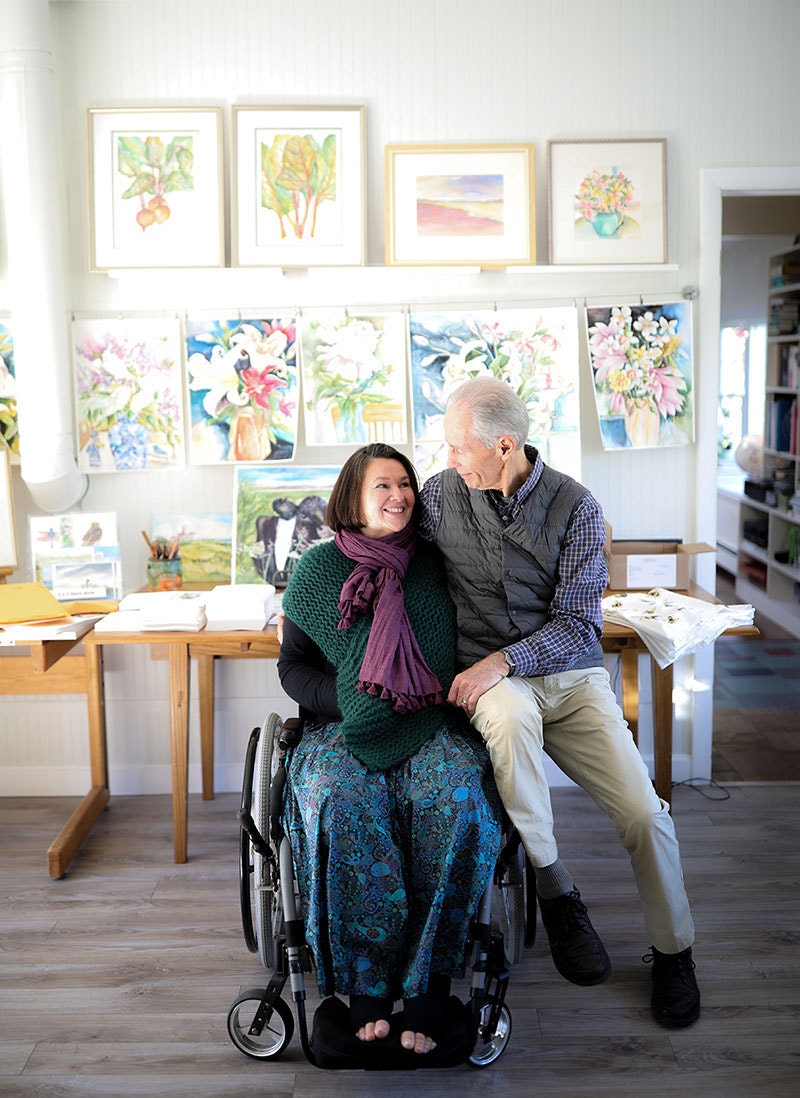 As their strong customer service reputation illustrates, loyal buyers return to Shirley's shop year after year looking for her latest designs. Offering ready-to-dispatch items helps Shirley and Rolf take advantage of Christmas traffic spikes. "During this time of year, my greeting cards, ornaments, and tea towels are the biggest sellers", says Shirley. Plus, offering delivery upgrades allows shoppers who are short on time the option to pay for expedited delivery during checkout.
Try the tip: By enabling delivery upgrades in your shop, you can appeal to last-minute Christmas buyers. Add delivery upgrades.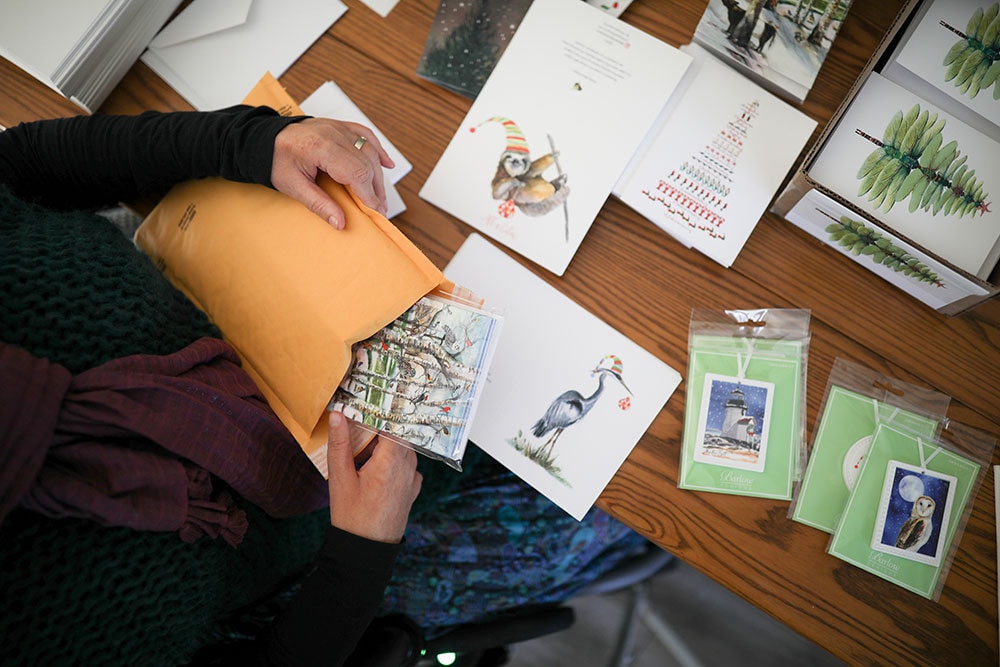 In contrast to her wholesale orders, Shirley frequently receives direct feedback on her designs from individual customers on Etsy. "It's often quite moving. For example, I've learned that my dragonfly tree design has such meaning for people who have lost a loved one", says Shirley. "I'm honoured to be able to touch people that way with something I created."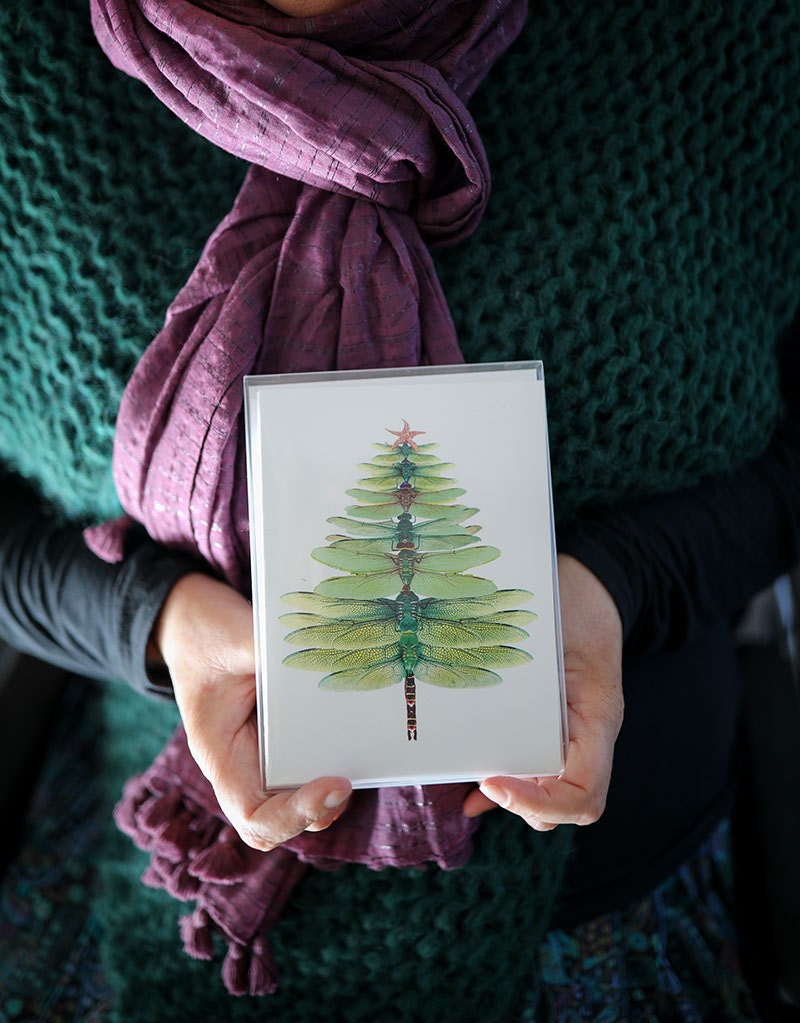 Shirley got her start as a creative entrepreneur making and selling jewellery. "I made tiny postage-size paintings, laminated them, and then drilled a hole for wiring", she explains. "Thinking back, I can't believe I did all that – my eyes could not handle it today!" From jewellery she transitioned into designing stationery, painting a debut collection featuring floral and nautical designs. "I put together a catalogue, and was picked up by a big New England rep who wanted to wholesale my cards and invitations", says Shirley. "The rest is history."
The landscape and wildlife of New England provide a constant source of inspiration for Shirley's work. She prefers to start new paintings on-location. "You just can't quite capture the grandeur of it all working from a photo", Shirley explains. A few of her favourite local sites include historic Fort Wetherill and Beavertail Lighthouse. She's also drawn to the challenge of depicting the diverse colours and cuts found throughout the island's rocky coastline.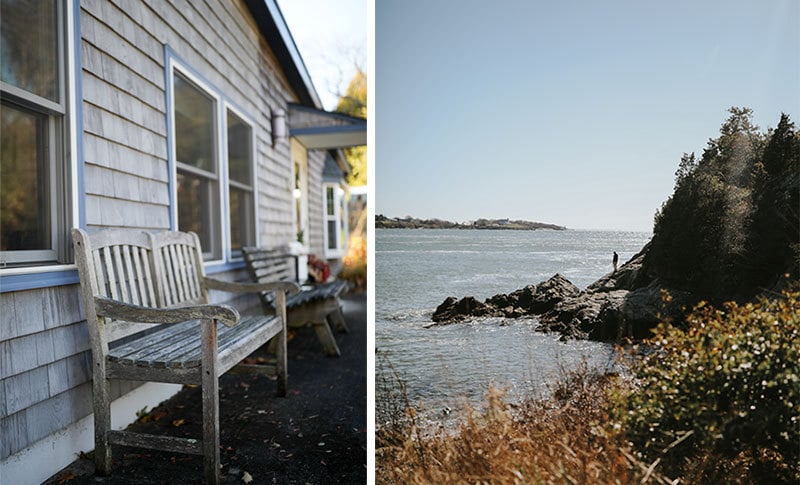 Once she decides on a subject and sets up her easel, Shirley sketches the scene in pencil before she starts to paint. She finds the hours often flies by, and enjoys bringing the piece back to her home studio, where she adds the finishing touches over time. "I love the excitement of working on a painting all day, then getting up the next morning to see it with fresh eyes", says Shirley. "I can't wait to rush into my studio to see how It looks. There's nothing like it."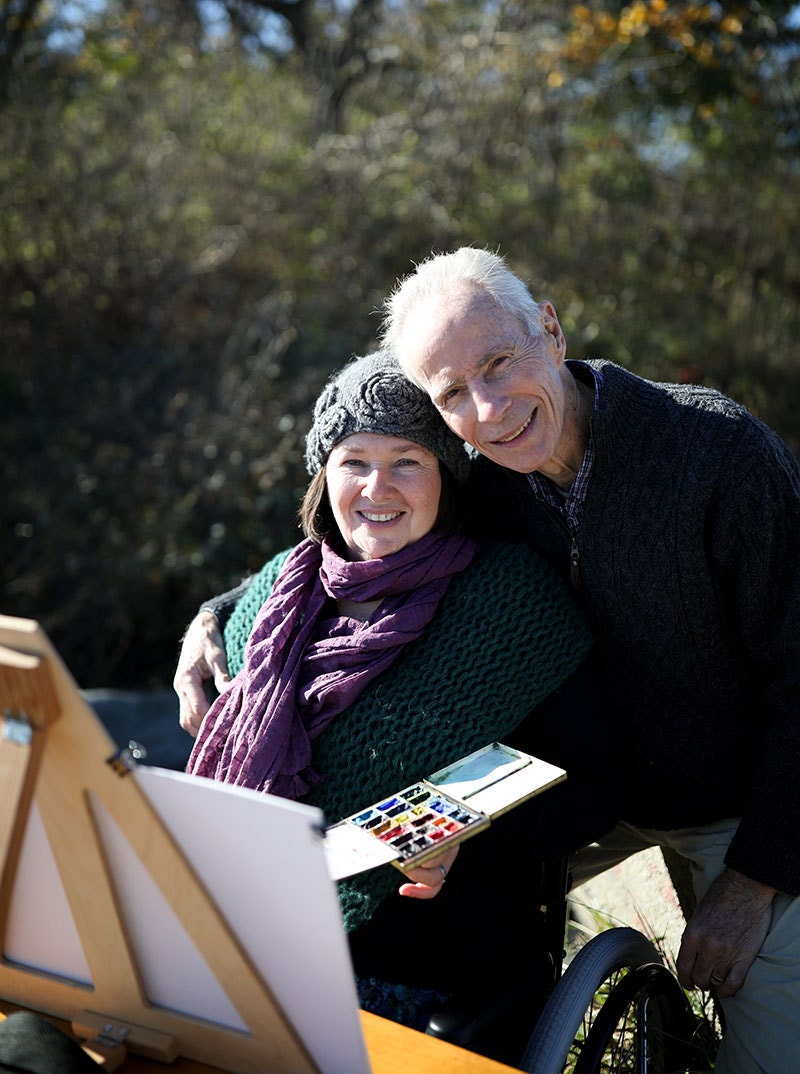 In addition to providing Shirley's sole source of income, watercolour has become a vital creative outlet. "Painting has been so therapeutic for me over the years", she reflects. "While there are many confinements and barriers to being in a wheelchair, watercolour gives me a feeling of freedom, self-expression, and purpose. And I love knowing my paintings are in the homes of people who love this area as much as I do."
To see more of Shirley's work, visit her shop. To nominate your shop for a feature on the Seller Handbook, fill out our pitch form.