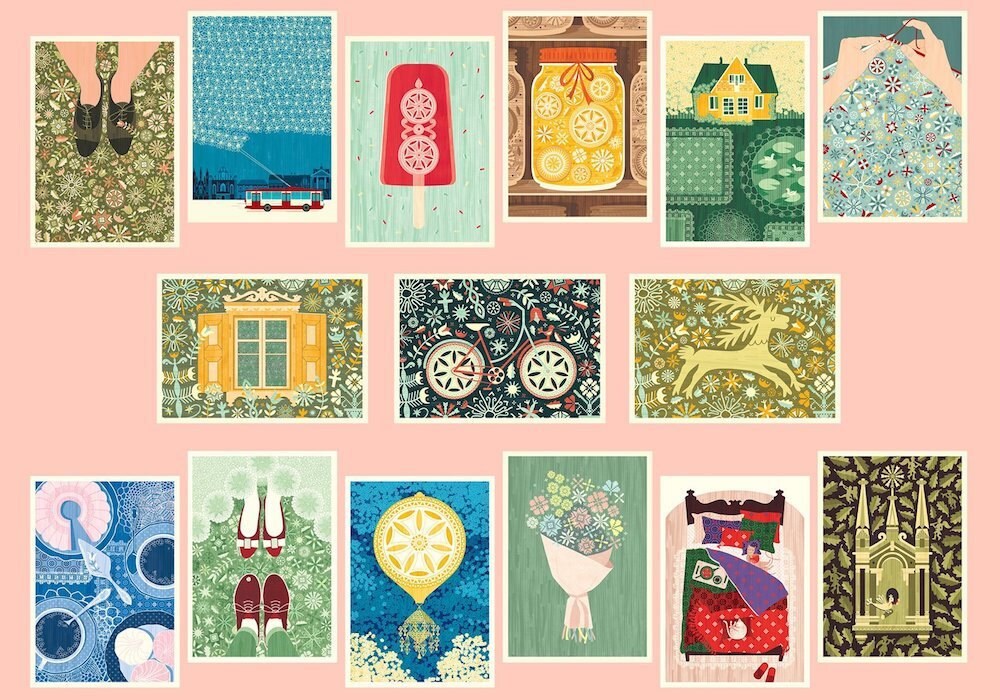 For Etsy shop owners, the Christmas season can mean piles of packages and multiple trips to the post office. Having a robust dispatch strategy will help you stay organised when Christmas orders start coming in. With buyers eager to receive their orders in time for gift giving, it's more important than ever to set clear expectations around processing times, purchase deadlines and return or exchange options. Although the occasional postal snafu is inevitable, you can set your shop up for success by establishing a streamlined dispatch process well in advance.
1. Review your delivery carrier's deadlines for Christmas deliveries.
During peak dispatch season (November and December), it's important to research the Christmas delivery cutoff dates for your postal carrier to ensure buyers receive their orders in a timely manner. In addition to the dates they provide, remember that transit might take longer than usual due to high volume and varied weather conditions. Below are a few resources for pinpointing cutoff dates from popular carriers, with 2018 dates coming soon. Check with your local postal service for the latest updates.
Pro Tip: Buying postage online can often be faster and less expensive than buying postage at the post office, depending on your carrier. For sellers in the US and Canada, Etsy Postage Labels are an easy way to save time and money when dispatching domestic and international orders.
2. Appeal to shoppers with competitive postage prices.
One of the most effective ways to turn a browser into a buyer is to make purchasing as seamless as possible. High postage costs relative to the item price can raise a red flag and make them less likely to buy. In fact, some Etsy shoppers say they're at least 50% less likely to complete a purchase when they feel postage costs are "getting expensive". Shoppers want to feel like they're getting a deal, and high postage costs can make them feel they're not getting good value. Consider incorporating a portion of postage costs into your product listing price to appeal to more buyers. Learn more by reading How to Price Your Postage Competitively.
3. Adjust processing time and deadline for purchases.
Once you've identified the Christmas delivery deadlines for each of the postal services you offer, work backward to determine the purchase date cutoff for each of the items in your shop. As you review your processing times, account for the days you'll need to make, package, and label your items. Be clear and honest about your processing times to set fair expectations for buyers and avoid scrambling at the last minute.
Additionally, shoppers are often looking for last-minute gifts. If you have items in your inventory that can be dispatched quickly, consider updating the processing times for those items to one day and promoting them to your customers as "Ready to Dispatch" gifts by adding that info to your listing descriptions or creating "Ready to Dispatch" or "Last-Minute Gifts" sections in your shop.
Pro Tip: Offering express delivery options through Delivery Upgrades is an easy way of extending your selling season for motivated buyers undeterred by the additional cost. Calculated Postage (available for US and Canadian sellers) is a simple and accurate way to offer both expedited and international delivery options, which can help you appeal to more shoppers around the world.
4. Perfect your productivity routines.
The last thing you want to worry about when you're fulfilling orders close to a Christmas deadline is running out of packing supplies or waiting in endless lines at the post office. When possible, order your packing essentials in bulk before the Christmas season, thinking carefully about how you'll reflect your brand in the details of your packaging. Your product might be headed directly to a gift recipient, so include information on how they can learn more about your shop, brand and the other products you sell. Shoppers can let you know an item is a gift by checking the "Mark as gift" option during checkout. This means that when you print a packing slip for that item, the price the buyer paid won't be displayed. Read Leaving Your Mark With Packaging and Promotional Materials for ideas on creating a consistent colour palette, product labels and printed materials to promote customer satisfaction - and repeat business.
To save time, some shop owners prefer to process orders in batches, scheduling two or three days during the week to pack and dispatch items. If you experience an unexpected influx of orders, consider enlisting family or a part-time employee to help get products out the door on time. Check out A Beginner's Guide to Keeping Up With the Christmas Rush for more tips from a veteran seller.
Pro Tip: If you sell several items with similar postage costs, you can save time updating multiple listings simultaneously by setting up Delivery Profiles. Whenever you make a change to a Delivery Profile, all of your connected listings will be updated as well.
5. Communicate regularly with your customers.
Christmas shoppers are often ordering under a tight deadline, so keeping them informed and confident through both passive and proactive communication is key.
In addition to updating your processing times and delivery estimates, your Shop Announcement is a good place to include your final delivery cutoff dates. Make sure your Shop Policies spell out whether you'll accept returns and exchanges, and if so, explain who is responsible for postage costs and the length of the return window. Use your Message to Buyers to remind customers when they can expect their order to be delivered and encourage them to reach out with any questions.
Once you dispatch an order, provide tracking information whenever possible to empower buyers to monitor their item's progress and troubleshoot any delivery issues directly with the carrier. Letting shoppers know that you can provide tracking information in your policies or listing description can help them feel more confident making a purchase. Find more ideas for improving your customers' experience in 4 Delivery Tips to Boost Customer Satisfaction.
Pro Tip: Double-check the Notes from Buyer section for each sold order to ensure you're getting all the information your customer provided. Some shoppers buy gifts to be dispatched directly to recipients, so look out for special requests or alternative address details to avoid confusion and leave your customer - and the gift recipient - satisfied.
How do your delivery habits shift during the Christmas season? Let us know in the comments.